Last year I visited Amsterdam, the Netherlands capital, a city with a lot of beautiful places.I wanted to visit this city for a lot reasons, one of them was just to visit Anne Frank house which was incredible.In this post I will share some of my favorite places from Amsteram.
Amsterdam is the Netherlands' capital, known for its artistic heritage, elaborate canal system and narrow houses with gabled facades, legacies of the city's 17th-century Golden Age. Its Museum District houses the Van Gogh Museum, works by Rembrandt and Vermeer at the Rijksmuseum, and modern art at the Stedelijk. Cycling is key to the city's character, and there are numerous bike paths.
Anne Frank is one of Amsterdam's most well known former residents.In Amsterdam is where she lived hiding with her family for more then two years during World War II. Now converted into a museum it contains a sobering exhibition about the persecution of the Jews during the war, as well as discrimination in general.When I walked in the room of Anna Frank i got goosebumps, i was so amazed when i saw pictures in the wall of Anna Frank  childhood.The Anne Frank House has also released a mobile app that encourages you to take to the streets and learn about wartime Amsterdam, Anne's childhood and her friends and family.
With over 30 parks to choose from, you'll never be short of a picnic spot in Amsterdam. More than just leafy escapes from the urban hustle, parks are at the heart of Amsterdam culture , and every time the sun rears its head you'll see locals packing up the disposable barbecue and bunting and heading down to their nearest garden. The 47 acre Vondelpark is the largest, housing an outdoor theatre with live concerts in summer, three bars and restaurants and a range of other attractions. Other notable parks are the cultural hub of Westerpark, Sarphatipark in De Pijp and Rembrandtpark in the West home to the oldest petting zoo in the city.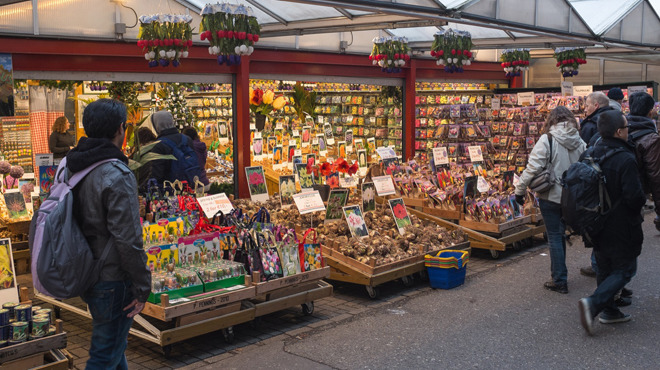 Whether you're looking to snag a bargain, try some local delicacies or just soak up the atmosphere, visiting one of the many markets in Amsterdam is a unique and unforgettable experience. Markets selling everything from antiques to books and artisan food to vintage clothes are held all over the city every day. Some of the most popular Amsterdam markets include the Albert Cuypmarket in De Pijp which works monday to saturday Lindengracht market in the Jordaan only on the suturdays, and the Waterlooplein flea market which works monday to saturday.
The Begijnhof is one of Amsterdam's oldest inner courtyards, and is a surprisingly tranquil escape from the city commotion. Formerly home to the Beguines a group of unmarried religious women who chose to live together in a close community  this quaint medieval enclosed court houses a group of historical buildings arranged around a central green, including the oldest wooden house in Amsterdam. It's a surreal experience and well worth finding the discreet entrance via the Begijnensteeg, off the Kalverstraat.
So this are my favorite places in Amsterdam.To enjoy your visit on Amsterdam you should visit this places…Have a wonderful time.