My visit in Frankfurt, Germany is one of my shortest visits ever. I have been in Frankfurt for 3 days and in this 3 days I tried to visit as much as possible, just to explore the city a little bit. Frankfurt is a central city in Germany near the river Main, is a major financial hub that's home to the European Central Bank, and it is also the birthplace of Johann Wolfgang von Goethe.
I loved Frankfurt since I saw it for the first time. It is an amazing city and everyone who visit or has visited this city it still amazed. The people in the city are very welcoming people and they will help you for everything you need. The food is also a great thing in Frankfurt but I can't write to much about it. The travel price in Frankfurt isn't to high because you have a lot of options to choose, starting from where will you stay and where you will it, because is not necessary to eat and sleep in expensive places when you visit a city.

My first place to visit in Frankfurt was Main Tower which is 240m high and it has an antenna in the top. It is named Main Tower because is located near the Main river and this is the reason why the tower name is Main. The tower is full of commercials office and it's built in March 1999.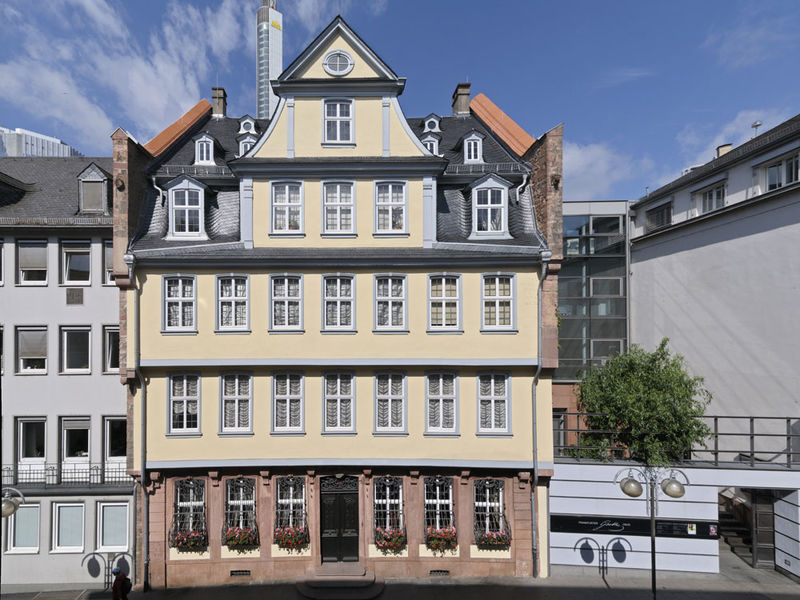 Second place I visited in Frankfurt was the Goethe House. A museum of the biggest German writer Goethe, who has born in Frankfurt. Goethe has lived in this house with his family and then he moved from there and now the house is a museum for all tourist who want to visit it and to know a little bit more about Goethe.
Third place I visited in Frankfurt was the Frankfurt Cathedral. Frankfurt Cathedral officially Imperial Cathedral of Saint Bartholomew is a Roman Catholic Gothic church located in the center of Frankfurt am Main, Germany. It is dedicated to Saint Bartholomew. The cathedral from outside was incredible. I don't know how it looks inside because I didn't have time to go inside it.

My last visit in Frankfurt was at St Paul's Church in Paulsplatz, central Frankfurt am Main, is a church with important political symbolism in Germany. It was started as a Lutheran church in 1789—coincidentally the same year as the French Revolution. This church was amazing and if you will visit Frankfurt one day you need to visit this place to.
As I said my visit in Frankfurt was really short and I didn't have time to visit all the best places in this city, but I think I will go back in this city for another visit. The places in Frankfurt are incredible. Also when you go around the city you have some amazing views to all around and you will never get bored from Frankfurt. It is a city who offers a lot. I love Frankfurt.