I have always dreamed to visit Lisbon, Portugal.This dream has come true. With my visit there I have seen many places but I didn't liked all of them.I have choosen 5 of them like they are the best places to visit. Here are the best places and the places you must visit in Lisbon.
1.Jerónimos Monastery or Hieronymites Monastery
The Jerónimos Monastery or Hieronymites Monastery is a former monastery of the Order of Saint Jerome near the Tagus river in the parish of Belém, in the Lisbon Municipality, Portugal; it was secularised on 28 December 1833 by state decree and its ownership transferred to the charitable institution, Real Casa Pia de Lisboa
2.Belém Tower
Belém Tower (Portuguese: Torre de Belém,or the Tower of St Vincent
 

is a fortified tower located in the civil parish of Santa Maria de Belém in the municipality of Lisbon, Portugal. It is a UNESCO World Heritage Site (along with the nearby Jerónimos Monastery)because of the significant role it played in the Portuguese maritime discoveries of the era of the Age of Discoveries.The tower was commissioned by King John II to be part of a defence system at the mouth of the Tagus river and a ceremonial gateway to Lisbon.
3. Praça do Comércio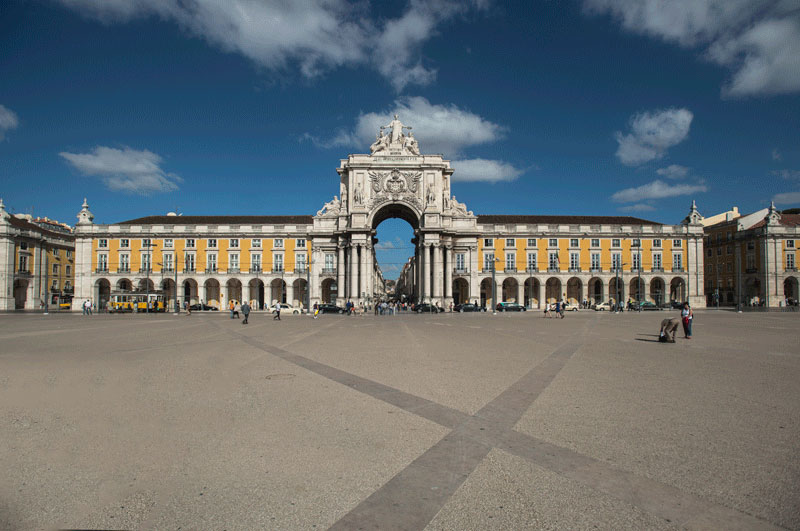 The Praça do Comérciois located in the city of Lisbon, Portugal. Situated near the Tagus river, the square is still commonly known as Terreiro do Paço because it was the location of the Paços da Ribeira (Royal Ribeira Palace) until it was destroyed by the great 1755 Lisbon earthquake. After the earthquake, the square was completely remodelled as part of the rebuilding of the Pombaline Downtown, ordered by Sebastião José de Carvalho e Melo, 1st Marquis of Pombal, who was the Minister of the Kingdom of Portugal from 1750 to 1777, during the reign of Dom José I, King of Portugal.
4. Lisbon Oceanarium
The Lisbon oceanarium is an oceanarium in Lisbon, Portugal. It is located in the Parque das Nações, which was the exhibition grounds for the Expo '98. It is the largest indoor aquarium in Europe
5.Padrão dos Descobrimentos
Padrão dos Descobrimentos  is a monument on the northern bank of the Tagus River estuary, in the civil parish of Santa Maria de Belém, Lisbon. Located along the river where ships departed to explore and trade with India and Orient, the monument celebrates the Portuguese Age of Discovery (or Age of Exploration) during the 15th and 16th centuries.
This are the top 5 places that have take my breath out.I hope that you like it!