This post is for Mumbai, India I've never been there but recently my friend have visited Mumbai and said to me that there are some beautiful places that took the breath of me.After that I searched some post abaut Mumbai and I made this post with the top 5 places that we all should visit when we are in Mumbai.
Mumbai (formerly called Bombay) is a densely populated city on India's west coast. A financial center, it's India's largest city. On the Mumbai Harbour waterfront stands the iconic Gateway of India stone arch, built by the British Raj in 1924. Offshore, nearby Elephanta Island holds ancient cave temples dedicated to the Hindu god Shiva. The city's also famous as the heart of the Bollywood film industry.
5.Visit the Kanheri Caves
The Kanheri Caves constitute a group of rock-cut monuments that are located to the southeast of Borivali on the western outskirts of Mumbai, the capital city of Indian State of Maharashtra. Located within the forests of the Sanjay Gandhi National Park, the caves are 6 km from the main gate and 7 km from Borivali Station.
4. Global Vipassana Pagoda
The Global Vipassana Pagoda is a Meditation Hall near Gorai, North-west of Mumbai, India. The Pagoda was inaugurated by Pratibha Patil, then President of India on 8 February 2009. It is built on donated land on a peninsula between Gorai creek and the Arabian Sea. The pagoda is to serve as a monument of peace and harmony. The Global Vipassana Pagoda has been built out of gratitude to the Buddha, his teaching and the community of monks practicing his teaching.
3.Visit the Elephanta Island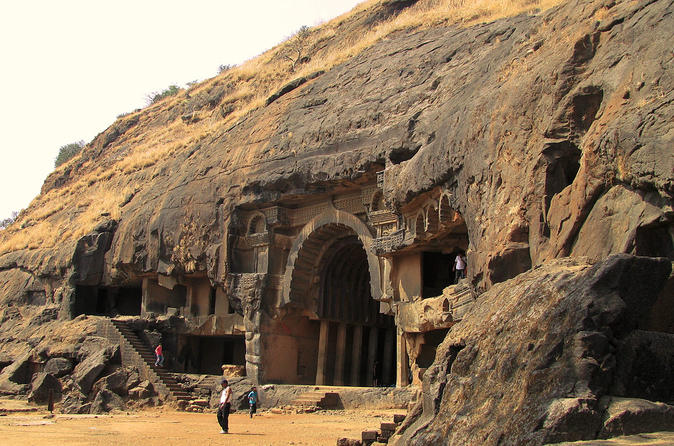 Elephanta Island (also called Gharapuri Island or place of caves or Pory Island) is one of a number of islands in Mumbai Harbour, east of Mumbai, India.This island is a popular tourist destination because of the island's cave temples, the Elephanta Caves, that have been carved out of rock.The island is easily accessible by ferry from Mumbai, being about 10 kilometres (6.2 mi) from the south east coast of the island city. Boats leave daily from the Gateway of India, taking about an hour each way.
2.The Gateway of India
The Gateway of Indiais a monument built during the 20th century in Mumbai City of Maharashtra state in Western India. It is located on the waterfront in the Apollo Bunder area in South Mumbai and overlooks the Arabian Sea.The structure is a basalt arch, 26 metres (85 feet) high. It lies at the end of Chhatrapati Shivaji Marg at the water's edge in Mumbai Harbour.
1.The Shree Siddhivinayak Ganapati Mandir
The Shree Siddhivinayak Ganapati Mandir is a Hindu temple dedicated to Lord Shri Ganesh. It is located in Prabhadevi, Mumbai, Maharashtra.It was originally built by Laxman Vithu and Deubai Patil on 19 November 1801.It is one of the richest temples in Mumbai.